Wednesday, August 8, 2012 at 10:26AM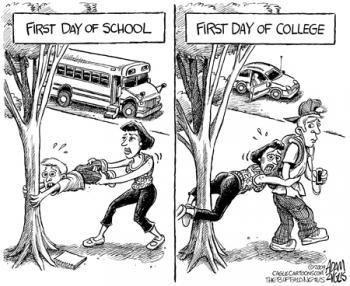 Image Courtesy of http://s2.e-monsite.com
A big Shoutout to all you brand new freshmen out there. What's up Class of 2015?! Your first day of college is right around the corner. I will spare you all those cliché and customary adulations and words of encouragement as I'm sure you're sick to death of "you can do it" and "I'm so proud of you". I know that for some the first day of college can be an anxious one, so I'm here to share a little advice that will, hopefully, help you out of your first day nerves. Don't worry, these are not you're traditional tips for freshmen and first year student. You can find that information all over the internet. Below you'll find all the things that I wish somebody would've told me on my first day college. Don't miss the bus children!
1. Go To Class- Every now and again, you'll come across a professor that will just greet you, distribute and discuss the syllabi, and send you on your way. These instances are few and far between. Most of the time, professors briefly engage in first day of class pleasantries and jump right into the course content. You don't want to miss the introduction to the subject matter. It builds the foundation for what the course is going to be all about. Starting strong can set the tone for a successful semester.
2. First Impressions Are Everything- As cliché as it is, your first impressions really make all the difference, especially with your professors. Even in large lecture sections, professors make associations and mental short cuts to remember students. You don't want to be the person known for coming in 10 minutes late, sitting in the back, nodding and/or tweeting during class. Your professors will notice your behavior before he/she ever knows your name. Be on time, dress neatly and appropriately and pay attention or at least be good at acting like you're paying attention.
3. Don't Force It- You may be nervous about meeting people and developing friendships. I say let friendships develop naturally. Be cordial, polite and show yourself friendly. Smile and speak to your classmates and passers by. Most people will respond to this behavior and reciprocate. Don't think about it too much, just be yourself and before you know it you'll be a social butterfly.
4. Get On you Federal Work Study Hustle- Work study is a must. If you've been awarded work-study, make finding a part time work study job one of your first priorities. The good ones are the first to go. Check with career services or wherever your school lists work-study opportunities and collect these tax free coins chyle. . If you have not been awarded work-study get your hind parts to the Financial Aid office and ask for it. Speak to a counselor and find out what you need to get work-study and get to it.
5. Try Not To Look So Green- Freshmen are easy to spot. But there are things that you can do to help you blend in with the upper classmen. Fortunately I followed my bestie to college and she was there to make sure that I did not do typical "freshmen things". Things like carry my food on a tray in the cafeteria and/or wear my keys around my neck. These faux pas were specific to my campus culture but every school has certain social do's and don't student's must learn and adopt or suffer social isolation and ridicule. Pay attention to what other students are doing to get a feel for what the norms are. .
I hope this has been helpful to you. All the best for a great Fall 2012 semester!